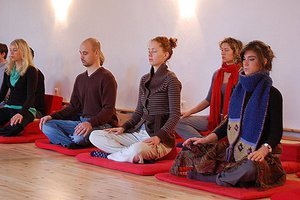 Date:
Tuesday 27 December 2011 (20:00 -22:00)
Sunday 1 January 2012 (10:00 -14:00)

Location:
Shambhala Europe
Teacher :
Sophie Maclaren
Coordinators :
Tasio Oderkerk & Anne Marsman
Contact person : Tasio Oderkerk
Meditation - Contemplative Arts - Yoga - Social Engagement - Music - Celebration - Buddhism - Dance - Enlightened Society- Our fifth annual gathering for people ages 16 to early 30s interested in cultivating peace within and peace in the world.
The theme of this gathering is 'Peace within, Peace in the world'
We have a new name! Formerly the Buddhist Youth Festival, we are celebrating our 5th anniversary with a new name which we feel better reflects the inspiration of people who come to the festival and what we are offering. What past participants often express is an appreciation that here there is something for everybody and it brings together a diverse group of like-minded people in a very genuine way most people haven't experienced before. The festival brings people together to explore teachings and methods which suport our personal journey of deepening and development as human beings, and bring about societal transformation. In Buddhism and many wisdom traditions, this is known as the path of awakenment.The Sanskrit word 'Bodhi' means 'awake', referring to being awake to ones basically good nature as a human being, which is often translated as 'enlightenment'. Something for everybody + 'waking-up' together = Every...Bodhi : )
The content of every festival is largly determined by the participants inspirations and requests. In this way, it is ever evolving and unique. Within our overall theme of peace within, peace in the world, there are several main topics which we explore through world-renowned guest speakers, workshops, meditation, contemplation and discussions. We are always open to adding more topics to meet your needs and interests, if you have any inspirations, please let us know!
As always, the festival finishes with a fun and fancy New Years Eve banquet and dance party!
For whom: Anyone (Buddhist or not) between the ages of 16 and 30's
Date: 27 December 2011 - 1st January 2012
Please arrive anytime before 20:00 on the 27th and plan to leave after noon on the 1st.
Costs: 240,- EUR for a room shared with 2-3 people. From participant requests, we have also added other options below for those who enjoy a specific room, or single room to themselves. Please register as soon as possible and pay at least 50% to ensure you receive your requested room. Information on how to pay will be e-mailed to you after registering.
Shared Rooms (2-3 people)
Discount room- available for those unable to pay the full amount, please contact us for a scholarship
Romantic & Zen Room 240,00 Euro
Traditional Castle Room 300,00 Euro
If you have a specific person or people you would like to share a room with, please write their names in the comment field of the registration form.
Single Rooms-
Single room Romantic & Zen 360,00 Euro
Single room Castle Room 450,00 Euro
Generosity Suite 1.000,00 Euro
Anyone wishing to support others in attending the festival, can register for the generosity suite. Many people require financial assistance to attend the festival each year, registering for the Generosity Suite provide sscholarship money for them. In appreciation of your support, we would like to offer you a beautiful room in the castle to yourself. Your registration is treated as a donation, and you will receive a receipt for your taxes. Thank you!
All room prices cover 5 nights in the 4 star hotel-castle (they are very generously letting us use this elegant space at a discount price), Breakfast, Lunch, Tea, and Dinner everyday. A New Years Eve Banquet and Dance Party, as well as the entire festival program!
To view the rooms and the castle, please visit http://www.schloss-heinsheim.de/
How do we make we make a wonderful programme which is also so affordable? Through the generosity of individuals donating their skills, money, and inspiration. If you feel inspired to partner with us by giving in any of these ways, please do! Contact EveryBodhi Founder/Director, Sophie Maclaren- [email protected]
Scholarships available! We do our best to keep the festival price far below market-rate and as affordable as possible. Scholarships are available for those who would otherwise be un-able to attend the festival. Please do not hesitate to request one if it is the only way for you to attend. Our goal is that no one will be turned away for lack of funds! Contact the festival Co-Director Susanne Becker- [email protected]
How to Register- Click on this link-
In addition to the information required on the form, please add in the comment field-
Room Choice- Shared Romantic or Zen, Shared Castle, Single Romantic or Zen, Single Castle, or Generosity Suite
Names, if there are specific people you would like to share your room with
Food- are you Vegetarian or Meat-eater (we do our best to accommodate everyone, but vegans and people with special diets should bring some snacks to supplement their diet if needed. Refrigerator space available)
See you soon!