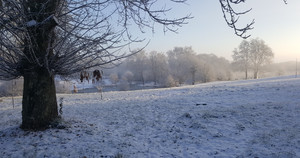 Date:
Sunday 26 December 2021 (16:00 -20:00)
Sunday 2 January 2022 (08:00 -10:00)

Teachers :
Tessa Racine & Herbert Elsky
basic food and accomodation per night to be added to the program price

:
€
41
This retreat provides a precious opportunity for renewal around the new year. Meditation, creativity, celebration… Come and taste this special passage with us. Taught in French. Translation upon request.
"How do we move from fear to creativity?"
These six days of retreat will give us the opportunity to explore the fears we may feel in our lives. This exploration will be done gently, through meditation and individual or group exercises, led by Tessa Racine, meditation teacher and psychotherapist.

Sitting meditation is a simple form of encounter with oneself. It allows you to find a quieter inner space where you can accept yourself more easily as you really are.
By exploring our fears, we will see that they can be very different and hide behind other emotions, such as anger for example. We might even discover that fear is the basis of our negative emotions!
Having looked our fears in the eye, we will learn to cultivate the antidote to overcome them and feel freer.

This program is open to people who have never practiced meditation as well as to those who practice it regularly.

For this new 2021 retreat, we had the idea of a teaching duo with Herb Elsky.

To combine meditation, emotions and creativity, is to experience that we can go from meditation to the creativity that we all possess: that of creating our lives.
Daily schedule:
7 am (optional):
Meditation and body exercises (Yoga or Lu-Jong)

8 am Breakfast

9:15 am Meditation and exercises around fear and how to overcome it. (Tessa Racine)

12:30 pm Lunch in the Meditation Room

3 pm Explore creativity (Herb Elsky)

7 pm Dinner

8:30pm Evening co-hosted by Tessa and Herb or hosted by one or more participants, on themes chosen together.

We will celebrate New Year's Eve together.
Practical
Arrival day (Sunday December 26): Orientation talk at 8 pm. You're invited to come from 4 pm in order to register and settle in your room. Dinner is served at 6.45 pm.
End of programme (Saturday January 1): Closing circle in the evening.
Departure day (Sunday January 2): You may leave anytime (no programme). You're welcome to stay for lunch.
This programme is taught in French. Free translation in English or other languages to be confirmed. Important: Translation services are possible only if you register your request at least two months in advance of the programme.