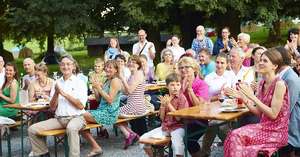 Date:
Sunday 18 July 2021 (16:00 -00:00)
Thursday 29 July 2021 (08:00 -12:00)

basic food and accomodation per night to be added to the program price

:
€
41
A community event open to Shambhalians of all practice levels and all views.
Let's come together as practitioners, friends and warriors of the Shambhala clan. Come as you are: bring your longing, your tears, your resentment, your commitment, your fear, your anger, your doubt, your questions, your hopes, your laughter, your wounds, your joy, your curiosity, your vision for the future of Shambhala and most of all your passion to be with the wisdom and confusion manifesting in yourself and others. Let that be the ground to explore our heritage of basic goodness and enlightened society.
It is time to come together, have practice and healing time; time for simply breathing together, opening up to each other, sharing and respecting where each of us is now and where we are all together as community. There is no better place to gather for this, than at our beloved European practice centre Dechen Chöling, the Land of Great Bliss.
An experiment in collective leadership
The project has come up from community members and Dechen Chöling lovers who felt the strong wish to meet this summer in Dechen Chöling after a long and painful period of pandemic and crisis in Shambhala.
Broadly speaking, the gathering will be self organized and will combine a daily schedule of practice, for the whole community, together with open spaces where anyone can propose, request, and provide offerings.
Possible structure of the day
Morning (three hours)
Core practices for all: Shamatha-Vipashana and Tonglen, raising Windhorse, Lhasang...

Practicing of listening and co-sensing (developing skillful means)
Afternoon (three hours)
Offerings from participants...
... for example: particular practices (such as sadhanas ); giving updates on developments/innovations in particular countries, groups and centres; offers to give a talk or to guide a practice; requests/proposals for workshops; deep listening conversations on topics such as curricula or the Shambhala centre of the future; healing circles, calligraphy and stroke practice, dance and so on.
Evening
Open to creative insight and events, night walks, singing, laughter... what you want...
In sum
It will be self organized and, at the same time, guided and supported by a practice container that provides a core structure
Work from 'the now' and open-up to potential futures...
Provide a precious opportunity, not only to 'talk about', but also to 'talk with' each other and to listen from the heart.
Enable a process that develops further our skillful means for creating enlightened society.
For any question, please contact Elizabeth: [email protected]
The Hosting Team
Catherine Eveillard, Elizabeth Anscutter.
On behalf of all already involved in this project.