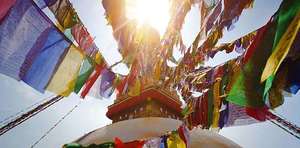 Date:
Thursday 24 September 2020 (16:00 -22:00)
Wednesday 30 September 2020 (08:00 -09:00)

Contact person : Shambhala Dechen Chöling
Mudra Space Awareness. Taught in English.
Come, Celebrate Your Mudra With Us!
The Mudra Group of Europe, under the direction of Mitra Lee Worley invites you to join us at Dechen Chöling for an autumn celebration of Mudra Space Awareness, a skillful means to "awaken", first taught by Tibetan Buddhist Master Chögyam Trungpa. For almost half a century these Tibetan Yogic exercises, drawn from the Mahamudra and Dzogchen traditions, have been practiced and studied by Western meditation and mindfulness practitioners in the United States and Europe. It is time to celebrate our growing experience of awakened mind together.
Whether you have already experienced these profound exercises or are curious what they might do for you, all are welcome to attend. 2020 is the year to proclaim your fearless commitment to freedom from self-doubt and hesitation.
The work will consist of lavish opportunities to practice Space Awareness, Meditation Mind and Personal Creativity within a warm and caring group. Dechen Chöling is a beautiful place to tune your inner nature and the natural world together and explore with others how unconditional confidence can release your playful, graceful heart.
Please bring workout clothes plus a few frivolous or decorative additions. Knee pads are also useful.
For further information on the workshop and Mudra practice, please contact Sabine Putze at: [email protected]
Practical
Arrival day (Thursday 24th September): Orientation talk at 8 pm. You're invited to come from 4 pm in order to register and settle in your room. Dinner is served at 6.45 pm.
End of programme (Tuesday 29th September): Closing circle and celebratory banquet in the evening.
Departure day (Wednesday 30th September): You may leave anytime (no programme). You're welcome to stay for lunch.
This programme is taught in English. Free translation in French or other languages to be confirmed. Important: Translation services are possible only if you register your request at least two months in advance of the programme.