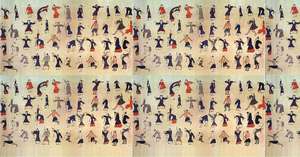 Date:
Sunday 29 March 2020 (16:00 -22:00)
Saturday 4 April 2020 (08:00 -09:00)

Contact person : Shambhala Dechen Chöling
basic food and accomodation per night to be added to the program price

:
€
41
The Wudangshan Five Animals Long Forms. A 5-day programme with the great Qi Gong master, Eva Wong. Taught in English. Translation upon request.
The Wudangshan Five Animals Long Forms are designed to deepen tendon-changing and marrow-washing practices using advanced stances and internal martial arts-based postures.
Totaling 48 movements, these animal forms train the practitioner to use the Tiger Form to strengthen bones and tendons, the Leopard Form to develop spring-like qualities in the tendons, the Dragon Form to train spinal movement, the Snake Form to enhance spinal flexibility, and the Crane Form to focus the qi.
The prerequisite for The Wudangshan Five Animals Long Forms is the Tendon-Changing and Marrow-Washing Intensive and Animal Forms Intensive.
Practical info
Arrival day (Sunday March 29): Welcome and orientation talk at 20.00. You're invited to arrive from 4 pm to register. Dinner is served at 18.45.

End of programme: The retreat will end on Friday April 3 at 6pm. Departure day is Saturday April 4.
This programme is taught in English. Free translation into French or other languages needs to be confirmed. Important: translation services are possible only if you register your request at least two months in advance of the programme.
Repeater special price
If you participate to this programme for the second time, a reduction of €200 will be applied to the regular price below. To benefit from this repeater special tarif, please make sure you announce this option when registering. Any discount based on income would be calculated on the reduced repeater price.