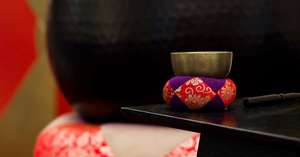 Date:
Monday 8 July 2019 (16:00 -22:00)
Sunday 21 July 2019 (08:00 -09:00)

Teacher :
Catherine Eveillard
basic food and accomodation per night to be added to the program price

:
€
40
Intensive Retreat of Meditation. A unique and transformative experience open to all. Dive into two weeks of intensive group meditation and discover your own wisdom. Taught in French. Translation upon request.
A dathün or 'lunar session ' is an in-depth introduction to and deepening of the mindfulness-awareness meditation technique. Doing this practice for a long time transforms how we relate to ourselves and everyday life by allowing us to get to know our mind and patterns.
Taking place over two weeks during the school holidays, this summer half-dathün will explore in depth the Shambhala principle of basic goodness - that we are all, at the core, worthy and complete. Learning this principle is a journey where by we make friends with who we are and draw out our inherent fearlessness.
From this point of view, mindfulness meditation is not a tool to fix ourselves or improve our abilities. Rather, it is a direct path to connecting with our fundamental wisdom.
As the daily meditation practice and routine of this retreat unfolds, we will discover an atmosphere in which we can trust in the experience of truly feeling ourselves, the natural world, and human society.
In this time of great planetary transition, the inner transformation induced by the practice of meditation is a powerful lever to manifest our inner wisdom and to discover that society has the power to awaken itself. We are not alone and, as soon as they are welcomed, our present suffering and fear are the seeds of the future.
Description
This programme includes daily teaching of meditation and practice according to Shambhala teachings, days of silence, sharing times, mindfulness exercises and walks in the generous nature of Dechen Chöling, contemplative meals and time free to taste loneliness. Individual talks by meditation instructors will be offered to all who wish.
Sample Day Schedule
7:00am Early Morning Practice Session
8:00am Oryoki-style* Breakfast
9:00am Morning Practice Session
12:30pm Oryoki-style* Lunch
1:30pm Work Period
3:00pm Afternoon Practice Session
4:00pm Tea Break
4:30pm Late Afternoon Practice Session
6:00pm Oryoki-style* Dinner
7:00pm Evening Practice Session
9:00pm End of Day

* Oryoki ("just enough") synchronises mind and body by bringing mindfulness to how we eat. Eating oryoki-style, in a prescribed manner and sequence, follows a tradition that began in Zen Buddhist monasteries.
Practical information
Arrival day (Monday 8 July): Intro talk at 8 pm. You're invited to come from 4 pm in order to register and settle in your room. Dinner is served at 6.45 pm.
End of programme (20 July): Closing circle and Banquet in the evening.
Departure day (Sunday 21 July): You may leave anytime (no programme). You're welcome to stay for lunch.
This programme is taught in French. Free translation in English or other languages needs to be confirmed. Important: We need 2 months notice of translation requests. If you are registering late, please contact us directly about translation.