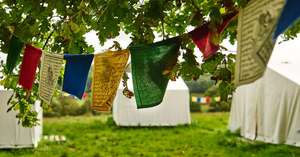 Date:
Sunday 28 July 2019 (15:00 -22:00)
Sunday 4 August 2019 (08:00 -09:00)

Teacher :
Deputy Minister of the Economy Pillar Faradee Rudy
Coordinator :
Nathalie Desjacques
basic food and accomodation per night to be added to the program price

:
€
40
One-week meditation retreat for young people, including introduction to meditation practice, to the foundational teachings of Buddhism, and on how to set up a good home situation. Beginners welcome! Taught in English
This youth retreat is a powerful opportunity for you to explore your inherent goodness, dignity, and humanity through the practices of meditation and contemplation, as well as the foundational teachings of Buddhism. Even if you have never practiced meditation before, we invite you into this journey of making friends with who you are and developing a more open and compassionate heart.
This retreat is directed towards young people who would like to practice together with a group of their peers. Meditation practice is relevant to every stage of life, but an extended retreat with a group of youth peers is a powerful way to work with your heart and mind, as well as issues, fears, and concerns about the world that are more directly related to youth.
A particular theme and focus of this year's youth retreat will be on Shambhala Household teachings. These teachings are a potent way to guide you in creating a healthy, nourishing, and harmonious home situation that powerfully supports your relationships and daily life.
Both beginners and long time practitioners are welcome. Each day will follow a traditional retreat schedule, with periods of sitting and walking meditation, chants, gentle physical exercise, and a short work period. There will also be daily talks on foundational Buddhist teachings and Shambhala Household teachings, as well as occasional discussion groups and outdoor excursions. Silence may be observed for some periods during the retreat.
A suggested youth guideline includes participants up to 35 years but we will not restrict people who "feel young" from attending. Participants under 18 will be requested to designate a legal guardian on land at DCL during the retreat.
The cost of the retreat is only €299, including programme price, food and accommodation in your own tent. The price will be higher if you opt to stay in a two-person tent provided by Dechen Chöling. Note also membership fee and shuttle cost may apply. We cannot offer scholarships for the retreat,but direct you to use Offering Bowl which can help you to raise funds to attend.
Practical Info
Arrival day (Sunday, July 28): Intro talk at 8 pm. You're invited to come from 3 pm in order to register and settle. Dinner is served at 6.45 pm.
End of programme (Saturday, August 3): Closing circle and Banquet in the evening.
Departure day (Sunday, August 4): You may leave anytime (no programme). You're welcome to stay for lunch.
This programme is taught in English.