Centre: Dechen Chöling
Date:
Tuesday 6 August 2019 (14:00 -22:00)
Friday 16 August 2019 (07:00 -09:00)

Teachers : Shastri Ancilla van Steekelenburg & Shastri Achim Schlage
For families, single parents, and children aged from 3-10. Activities for children are organized in the mornings, giving adults the opportunity to meditate, read or just relax. Taught in English. Translation upon request.
** Please note: Family Camp now ends on August 16th. **
The programme has been shortened by one day from August 17th to August 16th, in order to better accommodate Families with children in Sun Camp. There is no teaching on August 16th, and your family can leave at any time, or stay and leave on the 17th if they prefer. Shuttle rates apply to both departure days. Rites of Passage Ceremony, Sun Camp parade and final banquet will all take place on August 15th, reflecting the usual arrangement.
International Family Camp is a wonderful chance to bring meditation and the Shambhala teachings into family life, and to give parents and children a chance to soak in an atmosphere of mindfulness and awareness. Join us for this vibrant time at the height of the summer!
Playing, practising and exploring nature, parents and children have time to spend both together and apart in a creative and gentle adventure. In the mornings, parents will have the opportunity to meditate, study and share on common topics with each other. The teachers will lead morning sessions each day which include talks, meditation practice and discussions. Afternoons are designed as family time and will offer structured group activities for the entire family.
Programme Structure
There are four streams of activity happening during Family Camp : Family time, Children's programme, Parents' programme, and Rites of Passage. Please be aware that children and parents will participate in the different portions accordingly. See the below schedule. Note that separation happens during the morning session only.
Of course, parents are welcome to visit the younger children's programme, and likewise sometimes the youngest children prefer to sit with mummy and daddy during their class.
All engagement in afternoon/evening activities is optional, however participation in classes and meditation practice is highly encouraged for parents, in order to get the most out of this retreat.
Parents's classes: We look at everyday family life as the place where our children learn how to be - in countless beautiful and difficult situations, rather than through thoughtful 'education'. What could help us to be available for our children, again and again, with love and clarity? We will look at meditations and teachings from Mahayana Buddhism, a rich treasure, based on the wisdom of the heart and at the same time down to earth, applicable to parenting and family life.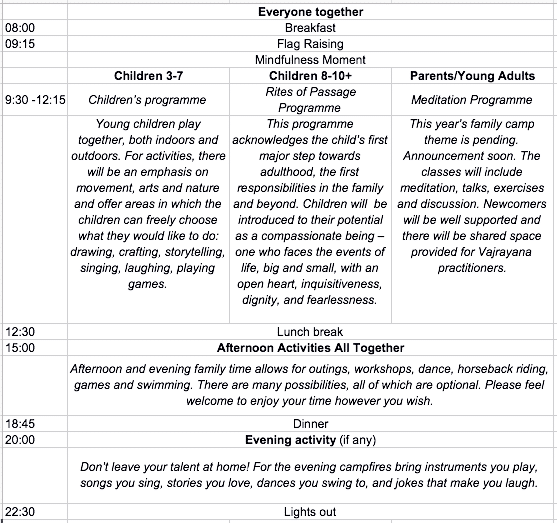 Children aged 8-12 have the opportunity to join the Rites of Passage programme. Click here to find out more.
For Children over 10 years old who don't want to join Family Camp – Check out Sun Camp!
In the same period, Shambhala Sun Summer Camp, an independent children's programme for children aged 10-16 is run on the nearby land of Dechen Chöling. Sun Camp is a sleep away camp for youngsters across Europe and beyond. This week is filled with opportunities to have fun, make friends and learn to take responsibility for oneself and one's world.
Practical
Arrival day (Tuesday August 6): Programme starts at 8pm. You're invited to come from 14:00 in order to register and settle in your tent. Diner is served at 18:45
End of programme (Friday August 16): Ends with a festive family banquet in the evening.
Departure day (Saturday August 17): You may leave anytime (no programme). You're welcome to stay for lunch.
This programme is taught in English. Free translation into French or other languages needs to be confirmed. Important: We need 2 months notice of translation requests. If you are registering late, please contact us directly about translation.
Price Information
FAMILY CAMP 2019 PRICES
(Euro)
Adults
Children
...
...
5-10 yrs
3-4 yrs
< 3 yrs
Programme price
Standard
200
100
100
see *
Early Bird (< 21 May)
170
85
85
see *
Concession
150
75
75
see *
Full board (standard accommodation + all meals)

40 €/night
20 €/night
5 €/night
5 €/night
* This programme is not accessible to children below 3 years old. However, they are welcome at Dechen Chöling, under your responsibility. If you bring a nanny or au pair, they pay 20 euros per day. Please follow the registration form which guides you in registering more than one person. Thank you!
Registration
To register the whole family, please use the following form: Family Camp 2019