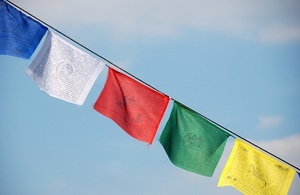 Date:
Saturday 19 September 2015 (09:00 -18:00)
Sunday 20 September 2015 (09:00 -17:00)

Location:
Shambhala Europe
Teachers :
Sakyong Mipham Rinpoche & Jane Arthur & Christoph Schönherr
Contact person : Birgit Krause
Dieses Wochenende ist ein Community-Treffen von Shambhala, das für Leute mit verschiedenen Funktionen konzipiert ist. Teilnahme nur mit persönlicher Einladung. This weekend is a Shambhala Community Gathering for invited guests only.
This program is a special gathering within the Shambhala community which is designed for people with certain functions in our community. Invited guests only. If you have questions about this please contact Jani Glavina at [email protected]
---
If you are on the program page of Shambhala Europe:
Click here to get to the registration page!
If you are on the Berlin website you can register via the button "Anmeldung".
---
Program information:

Join us for a weekend of inspiration, practice, application and celebration. We will manifest Shambhala society and explore how to bring this back into our centers and homes with clarity and skill.

We will receive teachings by the Sakyong and together explore questions that matter to us:


How can we have a positive impact in society?
What is Europe's role in the worldwide Shambhala mandala?
What are we doing in Berlin?
What is the task force doing?
What is the work that we want to continue to do together?

We kindly ask you to make every effort to attend. Gathering with his Leadership in all four pillars is a high priority for the Sakyong during these times of fundamental change and development in our European and worldwide Shambhala community.

We have tried to keep the participation fees as low as possible, so that as many people as possible can attend.

We can offer a reduced price to students, unemployed and participants from Eastern Europe. We also offer a "Gold" or Sponsor price. With the extra income we are able to subsidize the reduced prices. If your financial situation allows you to be generous, please consider expressing your generosity and solidarity with the less wealthy members of our sangha.
During the weekend, we will be working with a particular text composed by the Sakyong: "Shambhala Household". There will be a materials fee of 45 Euro for this text, which we ask you to pay together with your participation fee. If you already own this text, you do not have to pay the materials fee. In that case, please bring your text with you!

Venue:

We have booked the beautiful and well-known Villa Elisabeth in the heart of Berlin for this gathering.

Since the venue is in a popular part of Berlin, there are a many options for accommodation not too far from the venue. Click here for a list of places that we recommend
Prices
Regular: 280 Euro
Discounted: 180 Euro - students, unemployed and people from Eastern Europe only.
Gold: 330 Euro – Thank you for your generosity! Please consider taking the Gold price - this enables us to offer the discounted price for people with financial limitations.
---
If you are on the program page of Shambhala Europe:
Click here to get to the registration page!

If you are on the Berlin website register via the button "Anmeldung" right below.