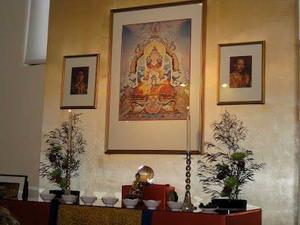 Date:
Friday 21 November 2014 (19:00 -22:00)
Saturday 22 November 2014 (09:00 -16:00)
Sunday 23 November 2014 (09:00 -16:00)

Location:
Shambhala Europe
Teachers :
Acharya Suzann Duquette & Dorothea Gädeke & Andrea Doukas
First european training for Shambhala umdzes and chöpöns.
This Regional Shambhala Ritual Academy is the first in a series of european trainings that Sakyong Mipham Rinpoche has requested for Shambhala umdzes and chöpöns.The Shambhala Ritual Academy is a major step in exploring the role of ritual in attracting drala and strengthening Shambhala culture.
The regional Shambhala Ritual academies will explore a vaster view and refresh the skills of being a chöpön or umdze. The curriculum is based on the teachings presented by Sakyong Mipham Rinpoche at the inaugural Shambhala Ritual Academy. The program will include joint sessions and practices, recordings from Sakyong Mipham Rinpoche's talks at the first Academy, study of a text on ritual written by Sakyong Mipham Rinpoche, and separate teaching tracks for umdzes and chöpöns.
The program is restricted to Vajrayana practitioners. If you qualify, and already are or wish to pursue being an umdze or chöpön as part your practice path, please attend. Centers may also wish to invite or encourage representatives to attend this gathering. Attendance at the first Shambhala Ritual Academy or a regional academy, such as this one, will be a pre-requisite for umdzes and chöpöns who wish to attend the next international gathering of the Shambhala Ritual Academy with Sakyong Mipham Rinpoche.
please note there is a material fee of 45 €