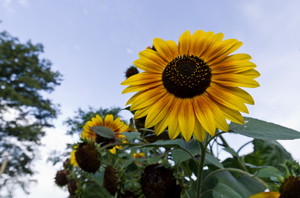 Date:
Saturday 2 July 2022 (16:00 -12:00)
Sunday 10 July 2022 (00:00 -00:00)

Teachers :
Sabine Rolf & Anne Emmanuelle Roche-Bret
basic food and accomodation per night to be added to the program price

:
€
41
This week of retreat with Sabine Rolf and Anne-Emmanuelle Roche-Bret is mostly focused on the practice of meditation and caring for oneself. Open to all.
We are excited to lead this retreat at Dechen Chöling, the Land of Great Bliss.
Come join us for this summer retreat dedicated to meditation and self-care!
Through mindfulness and making friend with ourselves, we find ways to relieve ourselves from old patterns, self-doubt and fear, and so benefit others and our world.
We will provide a simple and safe environment to deeply relax into meditation practice, which will help us access our strength and our authentic, unapologetic self.
So we invite you to come take a break and refresh yourself!
We are looking forward to meeting you and practicing together,

- Anne-Emmanuelle and Sabine
Meditation
This week is mostly focused on the practice of meditation and caring for oneself.
It is about discovering a safe space for the precious opportunity to practice deeply in a supportive and contemplative environment, to feel the synchronization of body and mind, and to return to one's sensory perceptions.
Reconnect with the earth, the sky, and our inherent goodness and strength.
Finding a sense of well-being for ourselves, we can raise our gaze and find our interest in others.
The practices will be supported by Buddhist and Shambhala teachings.
Contemplative Retreat
Shamatha and mindfulness will be the main practices. Meals will be in a contemplative pattern. There will also be days of silence.
Contemplative practices will be guided. There will be space for body exercises.
Teachings will focus on meditation and loving kindness and contemplative exercises.
There will be experiential exercises on the practice of dialogue, embodiment and creative expression.
Everyone will benefit from individual meditation instruction with qualified instructors.
The Two teachers
Sabine Rolf, an experienced teacher within and outside of the Shambhala Mandala. She teaches Shambhala Dharma, mindfulness communication, Maitri and contemplative psychology.
She is a trained compassionate trainer.
She works for a German Re-Use Network.
Anne Emmanuelle has been a Shambhala teacher for over ten years. She has completed the Karuna course (contemplative psychology). She is currently retired.
She lives in the south of France, in the Drôme, and leads a Tai Chi group in her village.
Daily Schedule
7:00 Wake up and opening practice, Body exercises
8:00 Breakfast
9:30 Morning session Sitting and Walking Meditation
11 :00 Guided practice / Teachings
12:00 Prepare contemplative meal
12:30 Contemplative meal in silence
13:00 – 15:00 Rest, rota, open
15:00 Afternoon session Sitting and Walking Meditation
16:30 Tea break
17:00 Evening session Sitting and Walking Meditation
18:30 Dinner
Evenings: Free / community events
Practical
Arrival day (2 July): Orientation talk at 8 pm. You're invited to come from 4 pm in order to register and settle in your room. Dinner is served at 6.45 pm.
End of programme (9 July): Closing circle and banquet in the evening.
Departure day (10 July): You may leave anytime (no programme). You're welcome to stay for lunch.
This programme is taught in English and French. Free translation will be available.