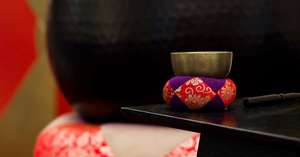 Date:
Saturday 1 August 2020 (16:00 -22:00)
Thursday 20 August 2020 (08:00 -09:00)

Teachers :
Shastri Simon La Haye & Catherine Eveillard
Contact person : Aurelie Hirtzel
basic food and accomodation per night to be added to the program price

:
€
41
Reconnaître notre valeur et notre bonté innée dans cette époque troublée et pleine de doute
Programme in French
CET ETE, Venez-vous ressourcer
à dechen choling
Reconnaître notre valeur et notre bonté innée dans cette époque troublée et pleine de doute
Retraite de méditation de « pleine présence »
Du 1 au 20 aout
Une retraite de méditation est l'occasion idéale pour découvrir ou approfondir la pratique de la méditation, et mieux comprendre son importance et les bienfaits qu'elle peut nous apporter.
C'est un moment pour se découvrir, se regarder simplement, s'accepter, prendre confiance, bref se faire du bien. C'est un moment de bravoure où, sans préjugé, on est prêt à s'accueillir et à être soi-même.
Du 1 au 10 Aout Avec Catherine Eveillard
Avec quelles intentions , quels gestes, quelles attitudes, quelles offrandes. Allons-nous guérir notre monde et notre planète?
Cette retraite joint la pratique de méditation personnelle à celle des cercles de sagesse. Le cercle est une pratique de sagesse vieille comme le monde qui nous invite à partager l'émergence d'une conscience collective pour mieux imaginer ensemble les attitudes et les outils dont nous avons besoin pour entrer dans notre futur.
Les journées alterneront les sessions de méditation avec des marches contemplatives et sensorielles pour se relier à la présence de la nature et un travail approfondi sur le « mouvement authentique », la sagesse du corps et des cercles d'échange quotidiens en silence ou en paroles.
Du 10 au 20 aout avec Simon La Haye
Approfondir la pratique de la méditation
« Les quatre fondements de l'attention »
Cette semaine s'adresse aussi bien à ceux qui veulent apprendre qu'à ceux qui désirent approfondir une pratique déjà existante. Il y aura des instructions, présentations théoriques et pratiques inspirées par « les quatre fondements de l'attention » de Chogyam Trungpa Rinpoche, ainsi que des exercices et des moments de partage et de détente dans la merveilleuse nature de Dechen Chöling.
Les deux retraites sont ouvertes à tous les publics. Ceux et celles qui commencent dans la pratique de méditation recevront des instructions individuelles et un suivi personnel.
Il est fortement recommandé d'arriver le 1er jour de chaque période et de s'inscrire pour toute la durée. Si des empêchements ne vous permettent pas de remplir ces conditions, veuillez-vous rapprocher des enseignants.
Pratique
Attention :
Deux types de logement possibles:
- propre tente
- chambre individuelle.
AUCUN AUTRE HEBERGEMENT NE POURRA ÊTRE PRIS EN COMPTE PENDANT LA PERDIODE LIEÉ AU COVID 19.
Jour d'arrivée (samedi 1 août) : Réunion d'introduction à 20h. Vous êtes convié sur place à partir de 16h afin de procéder à votre enregistrement et installation en chambre. Le dîner est servi à 18h45.
Fin du programme (mercredi 19 août) : Cercle de clôture puis banquet le soir.
Jour de départ (jeudi 20 août) : Pas de programme. Vous êtes bienvenu à rester au déjeuner.