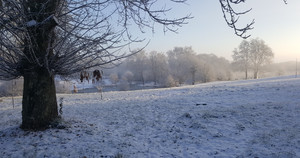 Date:
Friday 27 December 2019 (16:00 -22:00)
Saturday 4 January 2020 (08:00 -09:00)

Teacher :
Catherine Eveillard
Coordinators :
Nathalie Chautard & Martine Noschese
basic food and accomodation per night to be added to the program price

:
€
40
Open Heart Meditation, body awakening and dancing. Taught in French. Translation upon request.
Open Heart Meditation, body awakening and dancing.
This programme is an opportunity to renew your body and mind in entering the New Year and to share with others the awakening and joyful power of meditation.
The meditation sessions will alternate with teachings on open heart practice and compassion, based on the teachings of Pema Chödron. This programme is open to all, beginners and advanced meditators. Awakening sessions through movement and dance will take place each afternoon. We will also take advantage of the magnificent Dechen Chöling park to connect with winter nature and enrich our perception of the world.
Catherine Eveillard is a Senior Teacher of Shambhala Training and former Director and founding member of Dechen Chöling. She will offer talks, contemplations and a variety of practices to support opening the senses and feelings. Her instructions have three basic steps:
Be fully present
Feel your heart
Jump into the next moment without anticipating anything
Henri Bouissou is a dancer and guitarist and Director of Practice at the Shambhala Centre in Marseille and is passionate about movement. Henri will introduce awakening movements of the body, designed to rediscover the potential of our body's natural openness and to explore its fluidity in the vast space that is available at every moment.
Practical
Arrival day (Friday December 27): Orientation talk at 8 pm. You're invited to come from 4 pm in order to register and settle in your room. Dinner is served at 6.45 pm.
End of programme (Friday January 3): Closing circle in the evening.
Departure day (Saturday January 4): You may leave anytime (no programme). You're welcome to stay for lunch.
This programme is taught in French. Free translation in English or other languages to be confirmed. Important: Translation services are possible only if you register your request at least two months in advance of the programme.