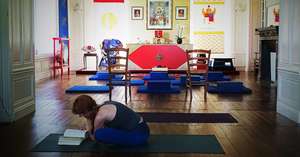 Date:
Sunday 3 November 2019 (16:00 -22:00)
Saturday 9 November 2019 (08:00 -10:00)

Coordinator :
Adrian Bude
basic food and accomodation per night to be added to the program price

:
€
41
Join Amy Hollowell for a week of exploring writing and meditation, capturing the essence moment-to-moment presence on a page. Taught in French. No translation.
A writing retreat for all
Truly artful writing arises naturally from a perspective of what can be called no perspective or whole perspective, from a heart and mind that exclude nothing. This all-inclusive openness allows us to experience things as they are, in all their fullness, and then to express that experience by giving it form in words.
In this retreat, we explore through the foundation of meditation and a variety of writing exercises the essential quality of ever-changing moment-to-moment presence and the expression of it on the page. Throughout the week, this practice can be applied to works already in progress or to work that emerges from the exercises proposed during the retreat.
It is not necessary to be a writer, keep a journal, or to have done specific classes to participate. This class is for anyone who has the desire to write, for pleasure or any other reason.
Programme
Each day begins with a meditation session, after which the group meets for writing exercises and an optional assignment followed by personal writing time. Afternoons are devoted to personal writing time and optional individual sessions with the teacher. After dinner and a meditation session, the group meets to discuss and share work produced during the day.
Please bring all necessary writing materials.
Practical
Arrival day (3rd November): Orientation talk at 8 pm. You're invited to come from 4 pm in order to register and settle in your room. Dinner is served at 6.45 pm.
End of program (8th November): Closing circle and Banquet in the evening.
Departure day (9th November): You may leave anytime (no program). You're welcome to stay for lunch.
This programme is taught only in French. No translation service in other languages.